A surge in demand: what record job vacancies mean for Australia
Australia has experienced its largest-ever spike in job vacancies in the last quarter, but a quarter of employers reported they were struggling to fill roles
Last week, the Australian Bureau of Statistics (ABS) announced that Australia was undergoing a surge in job vacancies on a scale that hadn't been seen before, with 362,000 job vacancies reported in May 2021 – an increase of 57 per cent on pre-pandemic levels.
These 362,000 job vacancies seen in May 2021 were, "higher than we have ever seen in Australia", according to Bjorn Jarvis, head of labour statistics at the ABS.
While this data was collected before the current spate of lockdowns Australia is experiencing (it was collected in the in the three months to May) the data shows a high demand for labour.
The announcement of this 23 per cent increase over the quarter in job vacancies was mirrored by another ABS finding that over a quarter of surveyed businesses (27 per cent) were reporting difficulties finding employees with the needed skills.
"The most frequently reported reason was a lack of applicants (74 per cent)," explained ABS head of industry statistics, John Shepherd, speaking on the data within the latest Business Conditions and Sentiments Survey. "[This was] followed by applicants not having the required skills (66 per cent), international border closures (32 per cent) and job location (29 per cent)."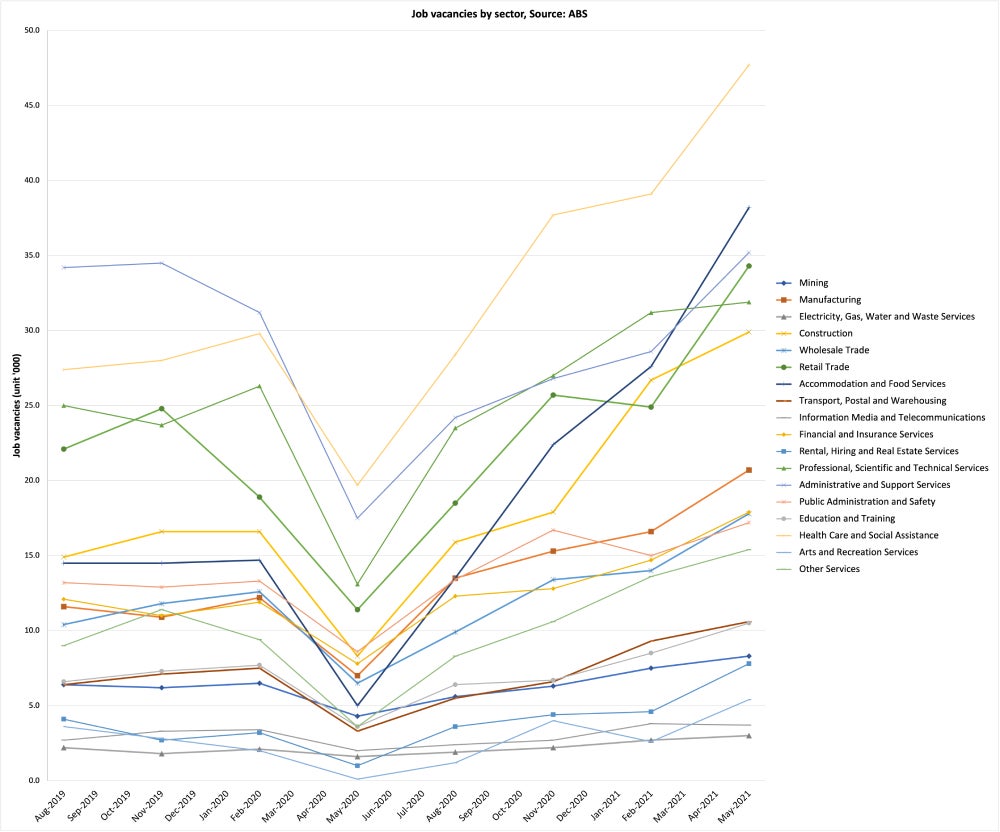 Why is there a spike in job vacancies in Australia?
Raja Junankar, Adjunct Professor of Economics at UNSW Business School, says there are several reasons why there is both an unprecedented level of job vacancies and a struggle by some businesses to fill them. While it is true that there is greater demand in areas such as construction and health, a dramatic drop in the levels of migration to Australia since the government closed its borders last March has played a huge part.
"Migration has more or less stopped because of our closed borders [so] there will be shortages in certain skilled areas," says Prof. Junankar. "In the past, we used to 'import' people from overseas at a 'low price' because we didn't have to pay for the training or the experience – we just 'bought them' off the shelf."
Now, of course, we can't do that. While the past 18 months of COVID-era border policy has affected Australia's talent pool and wider labour market, Prof. Junankar explains that the groundwork for this situation was laid long before. A lack of homegrown upskilling, the rise of the gig economy, and reliance on seasonal labour are all possible contributing factors to the high level of job vacancies, he says.
"The TAFE system has had cutbacks in funding over the past decade or so," says Prof. Junankar. "The privatisation that took place has affected the way it worked in the past, to provide people in the skilled areas like electrical workers, plumbers, and tradespeople. And that means we don't have enough homegrown people."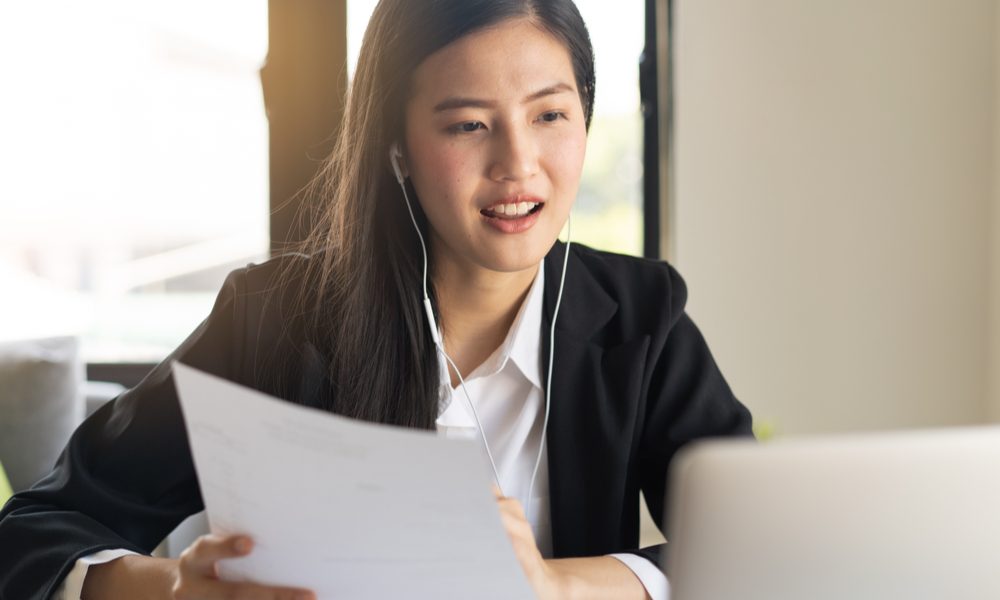 Secondly, while the rise of the gig economy over the last decade might have been convenient for employers when there was plenty of potential contractors, now that is not the case.
"When [worker availability drops], employers have to start making decisions," says Junankar. "'I need more of these people to work in my factory. What do I do? Oh, there's not enough people coming? Oh, shucks, what should I do?' Well, think about improving the conditions of work, giving them better wages and better conditions of work," he advises.
Lastly, Australia's decreased access to seasonal workers has affected areas like agriculture. "[Australians] don't want to come and work for farmers because (a) the wages are not very good, and (b) they're put in housing which is sometimes multi-occupied tenancy like 20 people in a little house." There's also a reluctance that stems from an inability by potential workers to 'drop everything' for these jobs.
Prof. Junankar points to the example of negotiating short-term breaks in rental agreements or having someone move into your property for the short term. Combined with the relatively low employment conditions on offer, these are all factors that can make seasonal agricultural work an unappealing prospect.
Read more: Reskilling and retraining: how to tackle the underemployment crisis
What does this mean for employers and employees – are wages set to increase?
The big question for workers – particularly those in areas whose skills are in demand, like IT, is whether an increase in vacancies and reports of skill shortages in applicants will mean higher wages for employees.
"One would expect the wage growth should go up," says Prof. Junankar. "If employers see there's a shortage of employees, that their vacancies are high, one of the things they could do is raise the wages and try and see if we can employ more people in that process."
Employees with desirable skills should be able to find employment if employers are realising that they need to be less fussy, points out Prof. Junankar. "[Employers] may have to lower [their] conditions of employment and then train up the workers," he says. "Yes, it will cost you a bit more but will have long-term benefits for the firm too."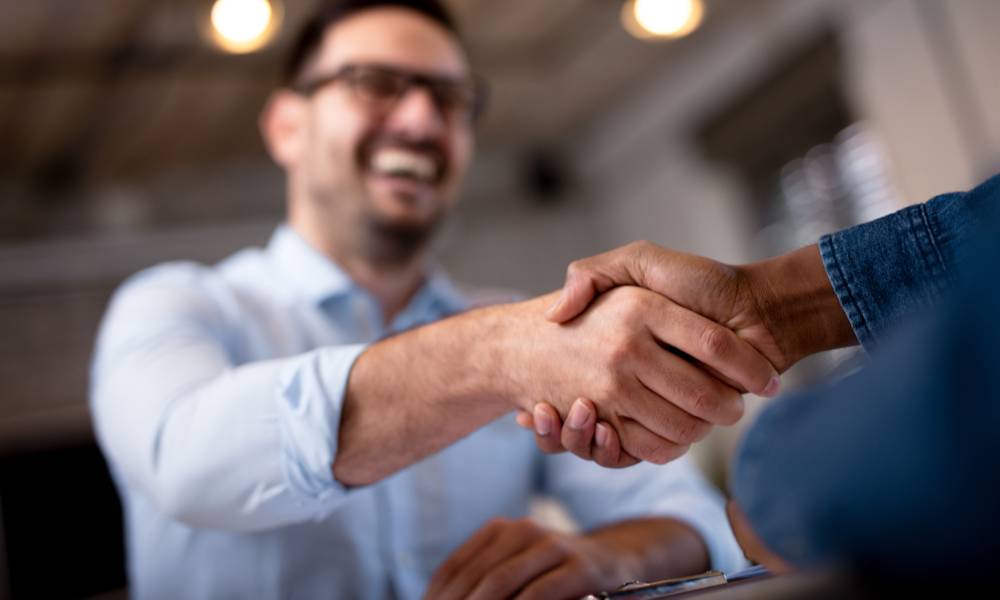 What can we do in the long-term about skill shortages?
There are a number of ways the economy could be improved to be more robust for future shocks, explains Prof. Junankar.
Improve the rate of productivity via better industrial relations: A major move towards this would be to not have so many gig workers who have no buy-in to improve a company that they have no reason to be loyal to. Prof. Junankar says: "Gig workers don't have any kind of faith or belief in the employer that they're working with. We need to have some kind of conditions of longer-term employment where the employee feels that he or she could [positively] contribute to the corporation or company that they're working for."
Improve training and upskilling: Investing more in education in TAFEs and the university sector in areas that are going to provide future in-demand skills such as IT, science, medicine are investments to help Australia and the global community in the long run.
Provide better work conditions: Higher wages mean higher aggregate demand in the economy, concludes Prof. Junankar. "That means producers can sell more goods and services ... this would all help the production of the economy, and the GDP."
Raja Junankar is an Honorary Professor and a member of the Industrial Relations Research Centre at UNSW.