Josh Thomas: leading sustainability for the Great Barrier Reef
Josh Thomas, CEO of the Great Barrier Reef Marine Park Authority, discusses the challenges in preserving the reef and the vital role of collaboration in its protection
The Great Barrier Reef, the world's largest coral reef system, is a natural treasure and a global icon. But as the world grapples with environmental challenges, preserving this ecological wonder has become a top priority, requiring a complex network of efforts, regulations, and collaborations essential for its future.
In an interview with UNSW Business School, Josh Thomas, Chief Executive Officer of the Great Barrier Reef Marine Park Authority (GBRMPA) – the organisation at the forefront of protecting the reef – discussed the GBRMPA's most significant challenges in protecting the UNESCO World Heritage site. Mr Thomas, who completed an AGSM MBA in 2022, shed light on his purpose-driven leadership style, the importance of collaboration, and what mindset aspiring leaders need to be successful in their careers.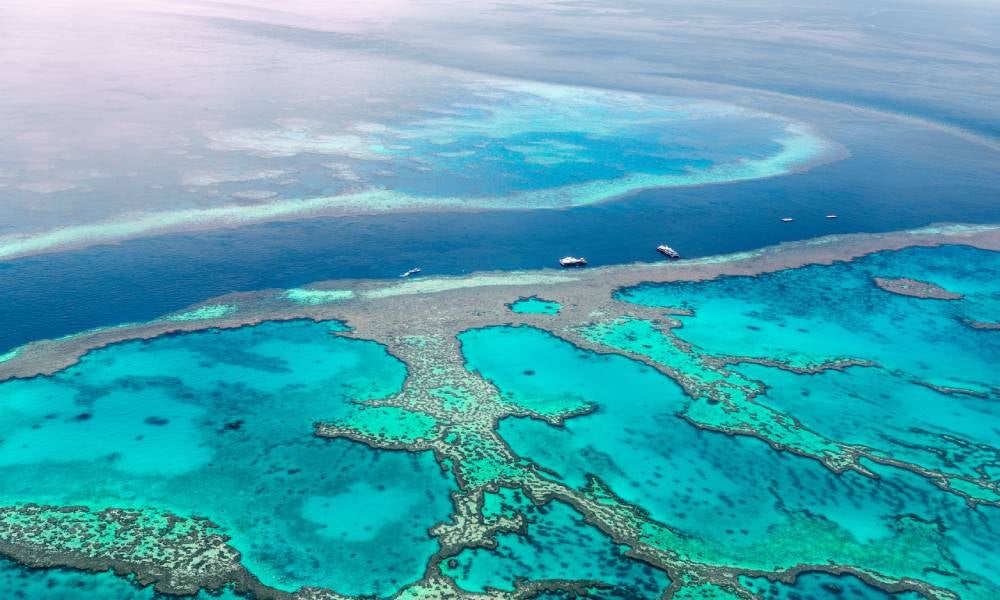 Sustainable leadership: charting a career for environmental impact
Now a prominent figure in Australia's conservation sector, Mr Thomas embarked on a career as a sustainability leader and advisor in environmental policy in Canberra after graduating with a bachelor's in arts and science and later a master's in international relations from the Australian National University.
Reflecting on his career journey to date, he said the consistent focus was always on more sustainable and enduring outcomes for Australia. "The theme of my career has centred around the sustainable use of our natural resources, whether for productive use or in the conservation of biodiversity in our most precious environments," he explained.
Having worked in close proximity to the dynamic and sometimes challenging debates in environmental and climate policy over many years, Mr Thomas shared insights into how he has developed his approach to public policy leadership through relying on science and good evidence, learning from high-integrity colleagues, and simply figuring out how to get difficult things done.
His career has seen him working across multiple federal portfolios, including environment, agriculture, finance and biosecurity. He is adaptable and works with business, academia, First Nations Groups and the wider community, but has also advised the highest levels of government over the past decade. Mr Thomas reflected that, while incredibly challenging, his time spent working for federal environment ministers provided a richer understanding of the end-to-end policy and legal processes that underpin our democracy. "It provided me a strategic perspective on national and international opportunities in environmental conservation that inspired me to make a bigger impact through my career."
Read more: Risky business: adapting to climate change could 'insure' a better future
Mr Thomas has actively sought to broaden his experience in the conservation sector wherever possible, working on World Heritage matters, Antarctica, large-scale grants programs and species conservation. He notes that classic approaches to environmental conservation are evolving rapidly. "Protecting nature is no longer just a nice-to-have, but at the centre of public policy development. There has never been a more important time for environmental leadership – in any sector – than right now."
As his responsibilities broadened, he developed a deep affinity for the Great Barrier Reef. One of the biggest things that attracted him to his current role at the Authority was that it brought together several areas he was passionate about. "The Great Barrier Reef represents so many things we need to care about as a nation: managing our marine habitats and biodiversity, First Nations Communities' cultural connections to country, climate change futures, sustainable business and tourism, and Australia's reputation overseas. The breadth and depth of the work was essential and compelling; I just had to get into it."
Key leadership challenges
Today, the Great Barrier Marine Park Authority balances conservation efforts with business and community needs through regulation and partnerships. "We use our regulatory powers to ensure there are clear standards and rules for engaging with the Marine Park, but we also deploy educational resources through schools and use sophisticated community engagement programs to develop more champions for the Great Barrier Reef," explained Mr Thomas.
One of the biggest parts of managing the Great Barrier Reef Marine Park, from a leadership perspective, is its sheer size, explained Mr Thomas. At 344,400 square kilometres, the Great Barrier Reef Marine Park is bigger than Victoria and Tasmania combined. Because of this, Mr Thomas emphasised the need for collaborative efforts and strong partnerships to scale up sustainability initiatives. "That's a vast region for a relatively small organisation to cover. We rely on other federal and state partner organisations for capability, universities for knowledge, and community and industry allies to help be our eyes and ears out on the water," he said.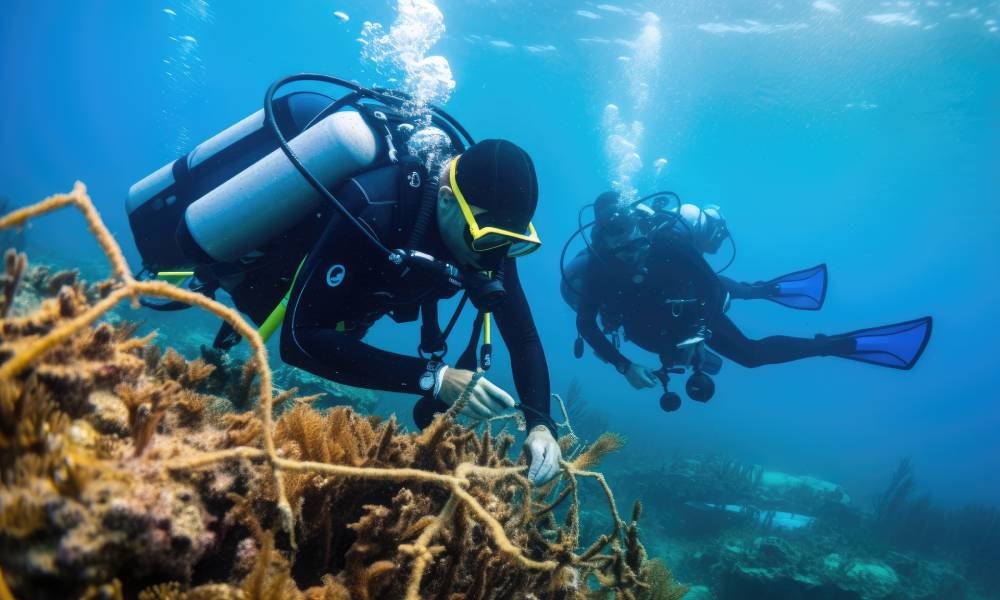 Most of the Great Barrier Reef Marine Park Authority's staff are in far north Queensland. Mr Thomas explained that while staff love living along the reef, it's also a small labour market and it can be hard to attract new skills to the region. Much of the organisation's operations require a physical presence on the ground, so remote working solutions are only useful in some areas. The Authority is striving to be an employer of choice in the north by providing fantastic learning and development opportunities and giving all staff the opportunity to get out on the water occasionally, no matter their role.
Maintaining a sense of optimism has also been an important element of his leadership – crucial amid external threats like climate change, poor water quality and illegal fishing, he explained. "Maintaining that sense of optimism and long-term thinking when the reef itself is under significant pressure can be challenging. No one wants to see the thing they love in jeopardy, so being able to reframe unproductive worry into resolute action is a critical leadership trait for an environmental leader."
"We have a passionate, highly skilled and engaged workforce, which is fantastic for our program. Showcasing the success of our work internally and externally can help reassure people their work remains relevant and important for the future," he said.
Read more: Three climate risk challenges (and solutions) for industry
The Authority isn't just telling others to be more environmentally responsible. Mr Thomas and his team are on the pathway to net zero emissions and making sustainable procurement choices wherever appropriate. The work saw his team secure a gold award for excellence in sustainable procurement practices. "We are leading by example in our community, with high ambition to be at the front of the sustainability curve in the Australian Public Service," he said.
So, what leadership skills have helped him navigate these challenges? Reflecting on the role of his AGSM MBA, its critical learnings and how it has helped him navigate some of these challenges from a senior leadership perspective, Mr Thomas said that it has helped him scaffold his knowledge with contemporary frameworks that he has taken back to his organisation.
"The MBA put frameworks, systems and concepts together in a package I could take back to work and apply immediately. Some learnings helped me reframe problems, some helped me become a better coach, some made me reflect more on how I could improve as a leader for the future. I think the MBA also helped strengthen my leadership by bringing more perspectives about leading teams into frame – it helped me to think about leadership in a variety of different contexts."
Legacy and vision for the Great Barrier Reef
In safeguarding the Great Barrier Reef for future generations, Mr Thomas emphasised the pivotal role of collaboration among businesses, governments, and the wider community in implementing effective sustainability solutions. "Societies rely on nature – we need a range of sectors and skills to come together collaboratively on the conservation solutions of the future. There are fantastic examples of this happening around the world right now and we simply need more of it if we are going to leave the world in a better state for future generations."
Reflecting on his tenure and the legacy he aspires to leave behind as CEO, Mr Thomas sees himself as an institutional steward, proud of an organisation that under his leadership is embracing change and technology and striving to remain at the cutting edge of marine conservation internationally. "I hope people will see our organisation as an exemplar of public sector innovation, sustainability ambition, and a case study of what partnering with government can look like in a range of contexts."
Key initiatives under Mr Thomas's leadership have demonstrated the power of collaboration, from expanding field management with the Queensland Government, working with tourism operators on reef stewardship, enhanced partnerships with Traditional Owner groups, or knowledge exchange with Pacific Island neighbours. "All of these things, whether it's regulation, education, in-field park management, or our international work, come together to ensure the care and protection of the reef for the future," he said.
Read more: Have economists underestimated climate change's financial hit?
Expressing his continued hope for global climate action, Mr Thomas reflected that all individuals can play a leadership role. From our personal lives, to bringing a sustainability lens to our daily work, we can all make a difference to the reef and precious natural environments around the world. "There's absolutely no reason business leaders can't be environmentally conscious in the work they do every day," he added.
Balancing agility with long-term vision
Finding the right balance between short-term agility and long-term vision is always a significant leadership challenge. "While we need to be responsive to community needs, in a world with increasing populism, geopolitical instability, economic and environmental uncertainty, it remains critical that our public sector institutions remain strong, measured and focused on achieving longer-term outcomes that will transcend short-term trends."
While acknowledging the immense challenge posed by climate change, he emphasised the reef's capacity to adapt and remain resilient if given time – time that can be provided by alleviating other local pressures and advancing smart restoration projects while the world reduces global greenhouse gas emissions. "There is more investment, capability and knowledge on the Great Barrier Reef now than ever before. With careful site management, proportionate action against the greatest risks to the reef, and the meaningful involvement of the right people, the reef can remain one of the most vibrant ecosystems on earth."
Subscribe to BusinessThink for the latest research, analysis and insights from UNSW Business School
Successfully navigating the daily barrage of events, environmental crises and media attention while staying aligned with a strategic vision is no small feat. But according to Mr Thomas, the key is to "adopt a stewardship mindset which can help you focus on longer-term organisational needs and not be distracted by pop-up issues. Think about what you will be handing over to the next leader one day – a deep sense of purpose and responsibility can help you weather a passing storm," he said.