How collaboration in a sandbox is helping to save Indian tigers
A new methodology that helps business with research starts with what an end-user hopes to achieve – as demonstrated in a partnership with the Karnataka State Forest Department
Most days, before the sun is up, rangers in the BRT Tiger Reserve in Karnataka in southern India set out on foot from their remote camp to track tigers and look for signs of poaching.
With GPS tracking devices designed by Karnataka State Forest Department, they collect wildlife data and upload it to computers back at camp. It's vital work if India is to protect one of the world's most endangered animals. There are as few as 3100 tigers left in the world and their body parts remain in demand for traditional medicines.
In a new initiative, the Karnataka Forest Department is working with researchers from UNSW Business School to build a sophisticated wildlife conservation analytics platform that will create predictive models of animal movement – models that could be adopted by wildlife conservationists around the world.
The project is a prime example of the kind of collaborative, high-impact research being undertaken in the Business School's Digital Enablement Research Network (DERN). As UNSW President and Vice-Chancellor Professor Ian Jacobs explained in a recent address to the National Press Club, academics today are being asked to do more than just publish papers in peer-reviewed journals. "We need a significant escalation in business-university collaboration – in cooperation with government – to drive the discovery-to-commercialisation pipeline," Prof. Jacobs says.
Shared interests
DERN was set up to bridge that research-practice gap, says Shan-Ling Pan, a Professor and Deputy Head (Research) of the School of Information Systems, Technology and Management at UNSW Business School.
To do that, you need innovative methodologies that effectively engage industry and other end-users in the pursuit of shared research interests, says Pan, who leads a team of DERN researchers working on a wide range of projects including how to protect business from cyber attack and the development of consumer analytics. Pan wanted to devise a common language to help academics and those working in government, business and the community to work collaboratively, and to communicate the societal worth of that research.
The result is the Sandbox Method, which generates a triple outcome of high-quality academic publications, direct organisational/community impact, and valuable teaching resources from every project. Pan sees huge potential for this original research approach, similar to the way Harvard Business School revolutionised teaching in the 1920s with its Case Method.
"Industry players and government agencies see this as a very smart way of tapping university brains and researchers"

SHAN-LING PAN
"In business schools, normally, we would look at the literature and identify gaps in knowledge, design methods to collect data in that field to support whatever it was we wanted to look at it, and then publish the data," says Pan.
"Industry would be the last stakeholder to know what we were doing. They may have participated in our study but they wouldn't necessarily benefit from the work," he says.
"With the Sandbox Method, we have flipped this around, starting with the end-user's interests and even using their data sets."
Proof of concept
In the case of the BRT Tiger Reserve, the rangers were collecting a lot of data about tigers and other wildlife in the park but not necessarily making the most of that information, says Pan.
DERN analysed the data, developed a proof of concept for the analytics platform, consulted with animal ecologists, and then returned to India to present the findings and get feedback on how to further refine the system. The Sandbox Method is a constant process of collaboration and fine-tuning, "a method that champions a collaborative spirit", says Pan.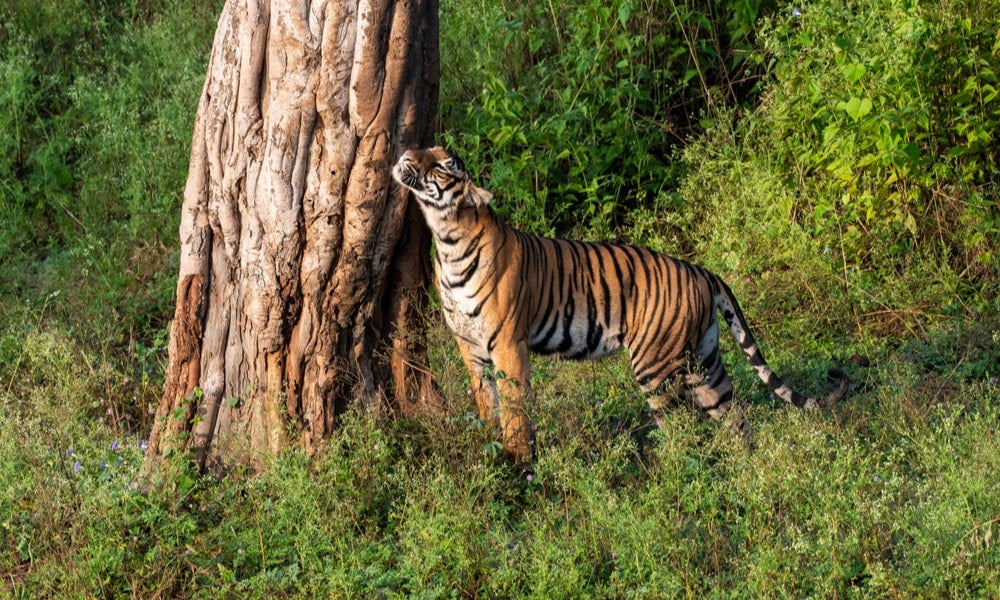 The sandbox could be a real place where researchers and clients meet to thrash out ideas and share information, or a virtual sandbox where teams talk in chat rooms, update documents online, or analyse data. During the next 12 months, DERN will create the steps any group of researchers would need to create their own sandbox.
"From step one, we will not just identify the impactful problem but also invite responses from industry. We will work with industry or community partners from the very beginning to address critical problems. Their participation is expected and they welcome that," says Pan.
The response so far from external parties has been positive, with projects attracting significant funding. "Industry players and government agencies see this as a very smart way of tapping university brains and researchers," says Pan. "It will change the way we approach research."
UNSW Business School's Digital Enablement Research Network (DERN) is an incubator of impact-based research focusing on the transformation of organisations, the economy and society through innovative digital technologies. DERN joins an elite group of academics with industry partners in the Asia-Pacific region and globally to develop innovative solutions for practice-inspired research projects. For more information please contact Professor Shan Pan, AGSM Scholar and Deputy Head of School (Research) in the School of Information Systems and Technology Management at UNSW Business School.