Zero Co Founder Mike Smith on business: stop talking, start doing
Some of the world's biggest problems, like single-use plastic rubbish, can only be solved by entrepreneurs brave enough to walk the talk, says Zero Co Founder Mike Smith
Australian company Zero Co is on a mission to stop single-use plastic. One year from launch, the Byron Bay personal care and cleaning products brand is already achieving huge milestones, like pulling 10 tonnes of plastic from the ocean to make its refillable 'forever bottles' and becoming the most successful start-up to hold a crowd-funding campaign in Australian history.
In less than seven hours, Zero Co raised $5 million on equity crowdfunding platform Birchal from 3082 Australians looking to tackle single-use plastic. The biggest and most successful crowd-funding campaign in Australia until then had reached $3 million in three weeks. Zero Co has also raised $6 million from venture capital firm Square Peg Capital, which reportedly came about from a cold email sent by Zero Co Founder Mike Smith.
On top of this, the start-up has raised $2 million with a private investment round from existing investors, including Skip Capital, headed by Kim Jackson and her husband Atlassian co-founder Scott Farquhar, Rob Chapman, former CEO of St George Bank and Adelaide Crows chairman, Jennifer Ma, a former director of KPMG, and Alana Burton, former QBE CFO and board member.
In its first year, Zero Co has made $8 million in sales and is projecting to average at roughly $1 million a month. Celebrating its achievements in a style befitting the company and its humble Founder, Zero Co recently announced a $10 million Give-A-Thon initiative to support schools, sports clubs and charities whose revenue has been devastated by the COVID-19 pandemic. Zero Co's success story proves that what's good for business can also be good for the planet. But importantly, the start-up's honest mission to prevent single-use plastic pollution and its growing fanbase as a result also goes to show the sheer power of perseverance and hope for a better world.
Zero Co: an Aussie's dream to solve the single-use plastic problem
Mr Smith, who refers to himself as a Used Pouch Salesman, says sustainable business models are the only way forward for the planet. But in order to get there, he says speaking from experience, will take a lot of trial and error. Indeed, when he first came up with the idea for Zero Co and pitched it to almost every VC firm, private equity fund, start-up incubator, accelerator program and environmental organisation in Australia, he was knocked back every single time. But every loss is a lesson, and as he became better at pitching his business idea, his perseverance started to pay off. Importantly, he had hope.
Mr Smith graduated from UNSW Sydney with a Bachelor of Commerce and a major in marketing in 2005, and he got a job at a creative advertising agency where he worked for the next four years. But growing disenchanted with the corporate world, he quit advertising to try his hand at entrepreneurship instead. "I realised pretty quickly that wasn't my career path – being an advertising person, working out tricky ways to sell sugary, fizzy water to kids wasn't what I wanted to spend my life doing," he says.
But the experience left him with some valuable skills. "I really enjoyed coming up with ideas and then trying to work out how to monetise those things. I think I learned that's really what I wanted to get good at doing: building ideas, working out how to take those ideas and put them in the world to make them real, and then how to scale those ideas. So that's what led me to take the plunge, quit a pretty decent paying job for a young guy, and go and start my own thing."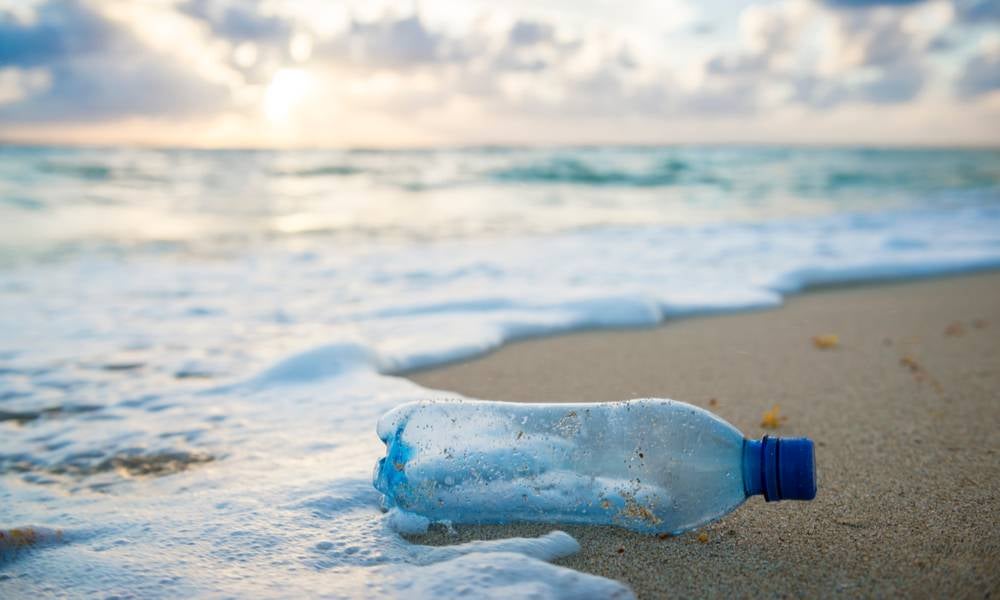 Mr Smith's first start-ups include a surfing technology business called Hot chip, and a wine brand called Cake Wines. But on a trip around the world, while he was trekking and camping his way through some of the most far-flung corners of the planet with his then-girlfriend and now-wife Alyssa Carter-Smith, he saw first-hand just how far the plastic problem had affected the far-reaches of planet Earth, and decided it was time to do something about it. His ideas for a zero-waste company paved the way for Zero Co.
The average four-person Australian household uses 6204 single-use plastic bottles of personal-care and home-cleaning products in their lifetime. But these products don't have to end up in landfills or exist at all if more people start using multi-purpose cleaning products, made from recycled and reusable packaging.
Read more: The 'S' in ESG and what it truly means for corporate sustainability
Zero Co's mission is simple: stop single-use plastic, and fund large-scale ocean cleanups. Its products are also based on a simple premise: reuse plastic waste pulled from the ocean to create bottles that consumers keep forever. Aptly named 'Forever Bottles', these reusable vessels are filled with cleaning and personal care products such as body wash, hand wash, laundry liquid and dishwashing liquid, that are mailed alongside recycled pouches. Customers then send back the empty pouches, so they can be refilled and sent out again.
As it turns out, other people believed in Mr Smith's idea too. Zero Co first went live with its first Kickstarter campaign in October 2019, and a month later, became the most-funded Australian Kickstarter project of the year, raising $742,427 from almost 7,000 Australian households. Fast forward a year, and one global pandemic later, and Zero Co is the most funded Australian project on Kickstarter to date.
What Zero Co's Founder Mike Smith looks for in new hires
So what's it like working for one of Australia's most successful start-ups to date? When looking for new talent to join the team, Mr Smith says the cultural fit is paramount. "We want people who want to do extraordinary things with their lives who want to have you know, an oversized impact on the planet and good people to be around."
And the company is always looking for great people to join its mission and to grow with the business. "We want people to come in and be inspired and be inspiring. We want them to be thinking about trying to do the best work of their lives. That is absolutely first and foremost. If you don't tick that box, then you don't even get past the first interview. And then it comes down to, you know, skill sets and all of those technical things around the roles that we're looking to hire. But culture is more important." he says.
What's next for Zero Co?
About 47,000, customers have joined Zero Co since it launched. Now, there are three big things Mr Smith is looking to achieve in the near future.
"First of all, is expand our product range. There are 10 products in our range at the moment, four more are about to launch just after Christmas, and then there's probably another 10 in the pipeline. The goal for us is to have every personal care and home cleaning product that you use in your kitchen, laundry, and bathroom available from Zero Co, delivered to your door without any single-use plastic.
"The second thing we want to do is to try and scale to 100,000 households. And then we want to take our Aussie-made solution to the plastic problem to the world. So, we're going to try and launch into North America and Europe next year," he says.
"One of the most heartening things for me about what we've seen is that the people who have become part of our community are from all around Australia, they're from regional areas, they're from metro areas. They are young, they are old, they are men or women. It's a really broad cross selection of Australian society, which is awesome to see so many different types of people from all walks of life, wanting to be part of the solution."