How to live your truth: spiritual guidance for corporate leaders
From corporate executive to author, career mentor and spiritual teacher, Sheila Vijeyarasa's career has been anything but linear – her experience proves that to get ahead, today's corporate leaders must forge their own path instead of doing what is expected of them
Great business leaders are connected to a higher purpose. Moreover, evidence shows purpose-driven businesses perform better than companies that exist merely to make profits. But can this purpose also be spiritual; do spiritual values have a place in the corporate world?
Great leaders are also conscious leaders who are deeply connected to their truth, which helps them perform better and truly understand the needs of their staff and customers, says corporate leader and mentor Sheila Vijeyarasa. As the founder of Empowering Intuition, Ms Vijeyarasa teaches executives how to connect to their deeper selves through intuition, mindfulness, and wellbeing techniques. She is also the author of Brave: Courageously live your truth, which explores how corporates can embrace their true calling.
From corporate executive to spiritual teacher, Ms Vijeyarasa has had a very interesting career. But the path towards living her truth has been anything but linear. If anything, her experience goes to show that listening to your intuition can be a powerful tool when making meaningful and challenging career decisions. The key to her success, she says, has been to truly seize every synchronistic moment and opportunity that's come her way, to listen to her gut feelings and to follow her inner voice.
"If we rewind the clock about 25 years, I got a scholarship to study accounting at university. I'd be lying to say that I loved accounting or wanted to be an accountant, but I got a scholarship, and so I walked through that first door," she says.
After graduating in 1999, she joined the graduate program at PricewaterhouseCoopers (PwC). Then, as a fully-fledged chartered accountant, she moved to London, where she worked at Barclays and several different big banks.
"I think I felt a little lost for a long time because I hadn't found an industry that I loved or that I was truly passionate about," she says. But by 2005, her prayers were answered when a recruiter suggested a senior position in publishing at Random House in Sydney. "I loved literature and reading, and so when I walked through the doors at Random House publishing 16 years ago, I knew I'd found a home for a long time – I found an industry that I truly loved," she says.
How Sheila Vijeyarasa lives her truth
But then, several years into her publishing career, she felt drawn to focus her energy inwards on topics like self-awareness, self-improvement and leadership, and she knew she wanted to spread her message to the world. So, in 2010, she enrolled into an MBA program at ASGM @ UNSW Business School.
Studying for the MBA was an important step in her personal development because it was through completing the degree that she was able to work on building up her self-awareness as a leader and strategic thinker, she says. "It was the first time in my life that I could see myself becoming an executive and that I could offer great value in terms of strategy and thinking big in an industry that was going through a lot of tumultuous change," she says.
"I was always ambitious. I always had the vision to become a finance director or a CEO of a large company. However, the MBA just gave me absolute confidence and self-belief," she says.
But it was after she finished her MBA that something very interesting happened. "I had what I call a spiritual awakening – I woke to my intuitive and spiritual gifts," explains Ms Vijeyarasa. "It was a very confusing time in my life because here I was a corporate executive at the time, and I was coming to understand that I was a medium and – wait for it – I could speak to dead souls."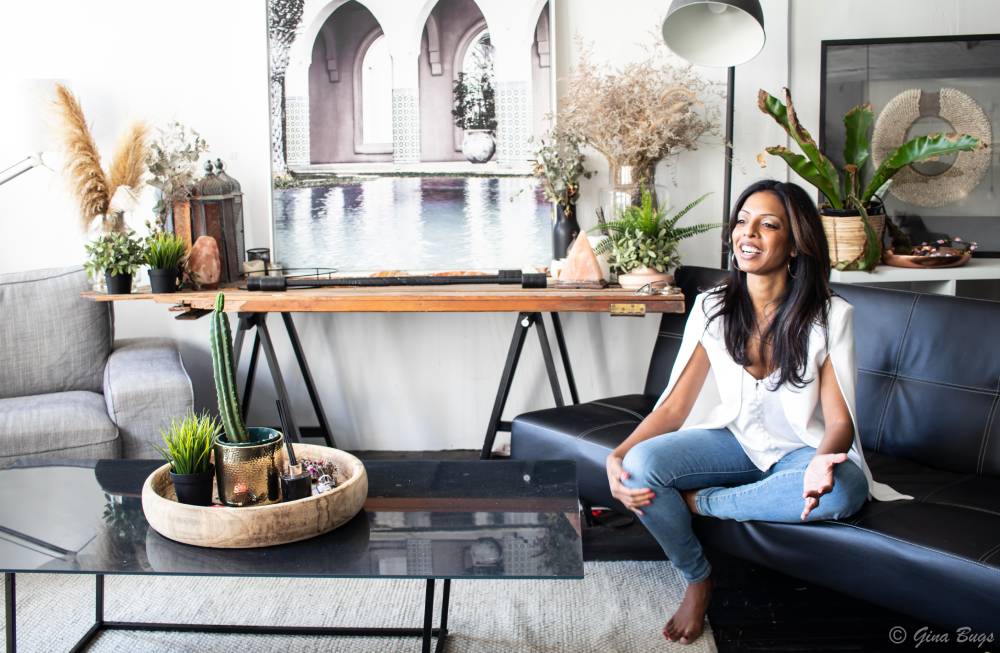 A psychic or medium is a person who claims to use extrasensory perception to identify information hidden from the normal senses. Indeed, this soon became a real passion of hers, and she spent most of her free time studying spiritual pursuits. She even did appearances on channel 7's Psychic TV. But deep down, there was still a disharmony between these passions: her corporate day job and the truth in her heart, she says.
Ms Vijeyarasa left Random House in 2012 and took on several other leadership positions, including Financial Planning and Analysis Manager at Telstra, Deputy CFO at Harlequin, and Head of Finance at Merivale Australia. "I battled it out for several years. I did my corporate job because I loved my corporate job. I'm highly analytical, logical and I love strategy. I loved working with large groups of people. Yet on the other side, I had this spiritual awakening. I had all these gifts that I felt called to use."
Finally, three years ago, she quit her role as Finance and Commercial Director at Simon & Schuster Australia and set out to spread her soul-inspired message to the world through the vehicle of a book. She was finally living her truth. "My book is called Brave: Courageously live your truth. It's a book about following your path in life, following your dharma, following your calling. And that path is not going to be linear. It's going to be interesting. It's going to involve seizing many synchronistic opportunities," she says.
So, what have these experiences taught her about corporate leadership and where can leaders improve?
Take responsibility for your staff's wellbeing
"COVID-19 has been what many would describe as a great spiritual awakening. We've awakened from a deep slumber to start to honour a more authentic way of living," says Ms Vijeyarasa
Nevertheless, there's still a long way to go. As corporate culture continues to evolve, Ms Vijeyarasa hopes leaders learn to take greater responsibility for the psychological health and mental wellbeing of their staff. In practice, this means managers need more training programs offered to employees about resilience, courage and mindset mastery until employees feel they can bring their whole self to the corporate office and be accepted for who they are.
"This will be through resilient programs, mindset mastery, emotional, giving staff emotional tools, and also spiritual tools, which is really where my expertise lies," she says. These kinds of tools, both the emotional and spiritual, need to become part of the mainstream consciousness and into the workday "so staff aren't sitting at their tables for 60 hours a week feeling disengaged or disempowered," she says.
Step into your vulnerabilities and know when to seek support
Another essential tool that every leader in the C-suite should have is a mentor or a coach, says Ms Vijeyarasa. "Even if you've made it to the C suite, you'll still have your blind spots; you're still a human having a human experience. And you're still working through self-judgments and some limiting beliefs.
"So it's so important to get a coach, a mentor, a spiritual teacher, someone who's going to lift your vibration, your consciousness, they're going to challenge your mindset," she says.
The second practical tip she says is essential for leaders is to know when to step into vulnerability. "More vulnerable in who they are, in the problems they're dealing with, more inclusive in respect to their staff's input and needs… conscious leaders are mindful of their emotions and the impact their emotions have on other leaders around them," she says.
"When you step into your vulnerability, and your vulnerable nature, your team will respond positively to your authenticity, they want to see a human in front of them having the human experience. And what this does is it brings you closer to your staff and your team. It removes the distance a job title can have, or an office can have.
"And in the corporate landscape, it's so important to be relatable... vulnerability fundamentally builds trust and intimacy, and trust is essential to get through hard times," she says.
Ms Vijeyarasa concludes: "It's the smaller acts of courage in living your truth that I think are truly the bravest acts you can make."
Sheila Vijeyarasa is a transformational mentor and spiritual teacher. She holds an MBA from AGSM @ UNSW Business School and has 15 years of experience in publishing and media and eight years of experience in chartered accounting and banking. Sheila is the founder of Empowering Intuition and the author of Brave: Courageously Live Your Truth.