Fuelling the fires of innovation and entrepreneurship at Shippit
An award-winning approach to innovation and entrepreneurship has helped Shippit become the fastest-growing shipping platform in the Asia Pacific
When William On called his friend Robert Hango-Zada to complain about a bad online shopping delivery experience, the seed was planted for what is now the fastest-growing shipping platform in the Asia Pacific: Shippit.
"The inspiration started with a really bad delivery experience, having bought something online," recalls Mr On. He bought a vacuum cleaner from the now defunct Masters hardware chain, and after asking for it to be delivered to his home and for in-store pick up options, it ended up going to his work in the city at the time and causing issues with a rather small mailroom. Mr On asked the mailroom manager how many personal versus work deliveries he received, and the manager estimated that about half of all deliveries were personal.
"There was really no other alternative," he recalls. "So having had that really bad experience, I gave my best mate Rob a call and said, 'Hey, Rob, if I had this experience, have you had the same experience before?'"
Mr Hango-Zada empathised. "I said, 'You wouldn't believe it. I'm holding five missed delivery slips in my hand. Because my wife's an avid online shopper and we're expecting a baby, we're getting all this stuff delivered.' And it was just a bit of a nightmare. So, we thought we'd do something about it."
And do something about it they did. Today, Mr On and Mr Hango-Zada are Co-Founders and joint CEOs of Shippit, a B2B SaaS company which streamlines and simplifies the order fulfilment process for thousands of retailers across Australia and the broader Asia Pacific region including Sephora, Target, Big W, Cotton On and Temple & Webster. Shippit powers millions of deliveries in Australia every month and last year alone – with the surge in online shopping (courtesy of COVID), Shippit handled more than 50 million shipments.
As a company which is in hyper-growth mode (the platform is experiencing 300 per cent year-on-year growth), Shippit has also attracted attention and healthy investments from the likes of OneVentures, Tidal, Aura Capital and Equity Venture Partners (EVP). Mr On and Mr Hango-Zada reflected on the growth of Shippit in a recent interview with Christine Van Toorn, Director of IS Co-op Programs and Senior Lecturer in the School of Information Systems and Technology Management at UNSW Business School.
As alumni of the Business School, Mr On and Mr Hango-Zada first met during their studies at UNSW Sydney and stayed in touch with each other following graduation and throughout the early years of their professional careers at companies including Deloitte, PWC, Procter & Gamble and Unilever. This experience, combined with that garnered at the UNSW Business School, laid the groundwork for their successful business collaboration.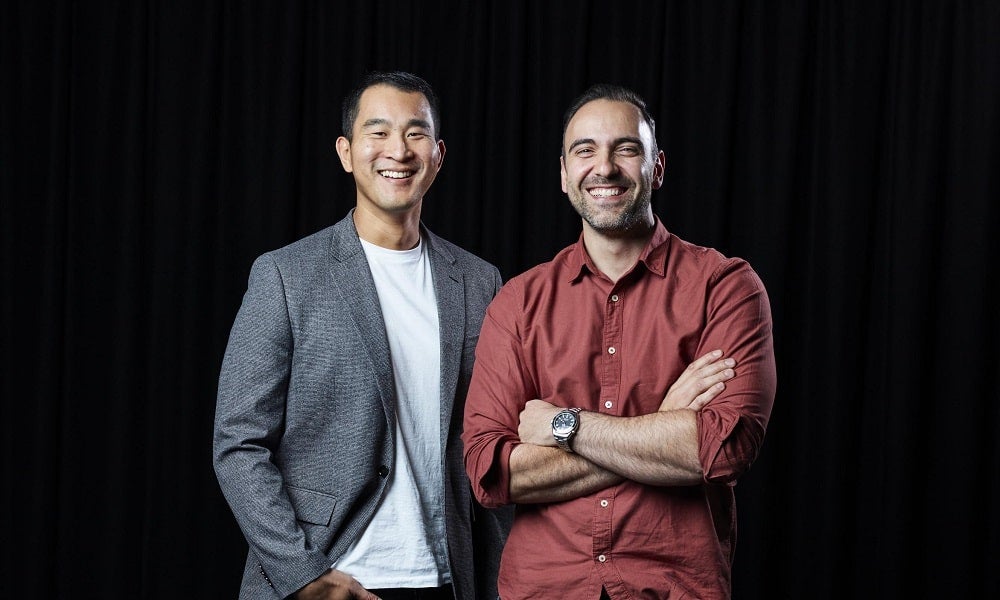 Keys to business success
Mr On and Mr Hango-Zada believe a focus on self-development and opportunities for growth – both for themselves and employees – has been critical to Shippit's success. "We take it upon ourselves, quite personally, to make sure our people are developing and that we give them the right opportunities," said Mr Hango-Zada.
"We try to keep humans at the heart of everything that we do. What we often tell our people is that they're here to do the best work of their careers, and we're here to enable them. And that's what we try to live up to every day. We don't always get it right. But that's the main aim."
This is particularly important for a company going through hyper-growth, and Mr Hango-Zada says this can be particularly challenging for existing employees as Shippit grows efficiently to meet market demand. "When you're growing so quickly, this means that you almost need to reapply for your job every single year, and you need to be growing at the same rate as the company. And that's pretty taxing on a lot of people. That requires stamina, persistence, resilience, it's not for everybody.
Read more: How Karl Chong pandemic-proofed his new business in New York
"But the personal growth you get with that is amazing. It really takes you into extraordinary places. And a lot of our [Shippit] alumni now are going on to take on really big jobs and opportunities outside of our business as well."
Mr On and Mr Hango-Zada, who recently won the 2021 UNSW Alumni Award for Innovation and Entrepreneurship, also believe a willingness to make mistakes is important to business success. "I remember when we launched the business the product wasn't quite ready and we went out to our first customer, who was obliging enough to let us in and add our plugin to their website. That brought down their whole site for 24 hours and they couldn't make a sale," recalls Hango-Zada.
"That was a 'holy crap moment' for both of us, where we didn't know what to do. But we learnt from that mistake and it was like, 'how can we avoid that happening again?' You have just got to roll with those things. Not every day you are going to have all the answers, and even the really successful people have had so many failures. It's really par for the course."
Silver lining on the cloud of 2020
2020 was a stellar example of rolling with things, according to Mr On and Mr Hango-Zada, who recall the first signs of trouble in February 2020 when the company's leadership team was concerned about the global outlook. A focus on numbers was critical to making some timely decisions ahead of the turbulence that businesses around the world would face in the coming months.
"Without getting into the data, we started looking at extrapolating out what that would mean, and we made the decision pretty quickly to shut our offices in February. Fortunately, we were remote ready and we had a remote workforce. All of the technology collaboration tools were in place," says Mr On.
Shippit's leadership team examined the numbers and started running forecasts around potential impacts on the industry. Mr Hango-Zada also cast his mind back to how the GFC played out and even the 11 September terror attacks in New York City. Fear often plays a significant causal role in recessions, according to Mr Hango-Zada: "Long story short, we got pretty spooked about what was going to happen. And we felt that retail confidence was going to plummet. We started seeing a lot of small businesses start to go out of business and withdraw themselves from our service," he recalls.
Mr On concurs: "Companies that were struggling before that; they were really struggling when it happened," he says, and both Mr On and Mr Hango-Zada (like many others) wish they had a crystal ball to see what was going to come.
"We actually made the decision to throw our strategy out of the window," says Mr Hango-Zada. "We had planned on a really big capital raise coming to 2021, so 2020 was going to be a year where we try and get the numbers up and get it running well. But then when we started losing business, our burn rate started shooting up with bridging rounds to get us through to the new year, and then that got pulled from us. So we're basically staring down the barrel of four months of runway with accelerating burn and no solid prospects."
Read more: How COVID-19 has changed consumer trends forever
Mr On and Mr Hango-Zada knew they had to make some "pretty drastic calls" if the business was to survive and Shippit cut its workforce by 20 per cent to reduce its cost base in line with worsening external circumstances.
"What it forced us to do, though, was try to productise and streamline processes that, historically, we'd throw people at," says Mr On, who explains this rationalised approach provided an opportunity to focus more sharply on business operations. "We put in Salesforce and we put in NetSuite billing at the time just to make things a lot smoother and faster," he says.
With a broader shift to remote working across the country there was a boom in online shopping throughout the course of last year and this proved fortuitous for Shippit and its commercial prospects. After just one month, it hired most of the employees who were let go, though their roles were changed to help accelerate growth for the business. "Off the back end of COVID we turned profitable over the past 12 months. That was pretty awesome, because then we were able to use those numbers to then raise capital again. So now we've been able to fuel the fire," says Mr On.
Mr Hango-Zada explains the events of 2020 essentially forced Shippit to go through an accelerated digital transformation which enabled a more cost-effective approach to growth. "Basically, our business ended the year three times bigger than it was at the start. It was quite fortunate that we did go the complete other direction, because it made us a lot more efficient. And throwing our strategy out the window for more than a quarter meant that we actually really hit our goals really well," he says.
Advice for budding entrepreneurs
As successful entrepreneurs, Mr On and Mr Hango-Zada reflected on their journey to-date and shared some insights for other aspiring entrepreneurs. "If you're entrepreneurial, it means you need to commit. And committing means you need to think about that problem you want to solve. Is it a problem that you're going to wake up, out of bed every single day for at least the next 10 years of your life, to be happy to solve?" Mr Hango-Zada asks.
"This is going to become your life and your reason for existing for a period of time. Be prepared to lose sleep, relationships and money for that problem. And if it's worth it, go hell for leather," he says.
Mr Hango-Zada also underscored the importance of self-confidence tempered with humility. "You can tend to be governed by fear when you're at an early age. Everyone's got a bit of imposter syndrome to varying degrees," he says. "And then you've got the flip side of that with people who are super confident. But there's a happy middle ground, which is having a sense of humility, but also a great sense of self belief and confidence. Being able to back your own judgment early is important."
Mr On says it is also important to be open-minded, which he believes is an essential ingredient in the growth mindset. The practical work experiences gained in the course of the Business School Co-op Program were invaluable, and after graduating he took on a range of roles at IBM, Westpac, Deloitte, UBank and PwC – in addition to starting and selling off his own start-up, before co-founding Shippit. "A lot of it comes down to experience, seeing runs on the board and knowing where to distill the noise… Using those experiences, they still tie into how we run the business today," he says.