Digital resilience in action: five lessons from engaged research
An engaged research study conducted in collaboration with frontline healthcare practitioners has revealed a five-step approach for implementing digital resilience
The capacity to anticipate, absorb, and adapt to external shocks by leveraging digital technologies, known as digital resilience, is vital in the face of increasing global disruptions. Digital resilience has become crucial for individuals and organisations confronting and managing unprecedented crises as global disruptions escalate. But what does the path towards digital resilience require in practice?
A new paper co-authored by UNSW Business School's Dr Yenni Tim, Design Process Knowledge for Crisis-Driven Information Systems Solutions: Insights on Building Digital Resilience from An Action Design Research Study, reveals the steps needed to achieve digital resilience in action. The study advances the understanding of developing digital resilience, drawing on insights from industry-engaged research conducted during the COVID-19 pandemic.
The importance of engaged research into digital resilience
Dr Tim, Senior Lecturer in the School of Information Systems and Technology Management at UNSW Business School and the study's lead author, explains that we live in an environment marked by frequent extreme events such as environmental crises, political unrest, and technological disruptions. "These incidents are becoming more common and often converging, resulting in heightened, cumulative risks. As our society becomes more digital, our recovery from these disruptions hinges mainly on the effective use of digital technologies," she says.
"Consequently, digital resilience has emerged as a crucial factor enabling individuals, communities, and organisations alike to adapt to changes and continue to make progress, even amidst disruptions."
Dr Tim's research focuses on digital resilience to support organisations and communities to use digital technologies more effectively to withstand major societal shocks. These shocks can include pandemics, but they're not limited to them. She also investigates digital resilience amidst disasters such as floods and chronic crises such as social exclusion and climate change.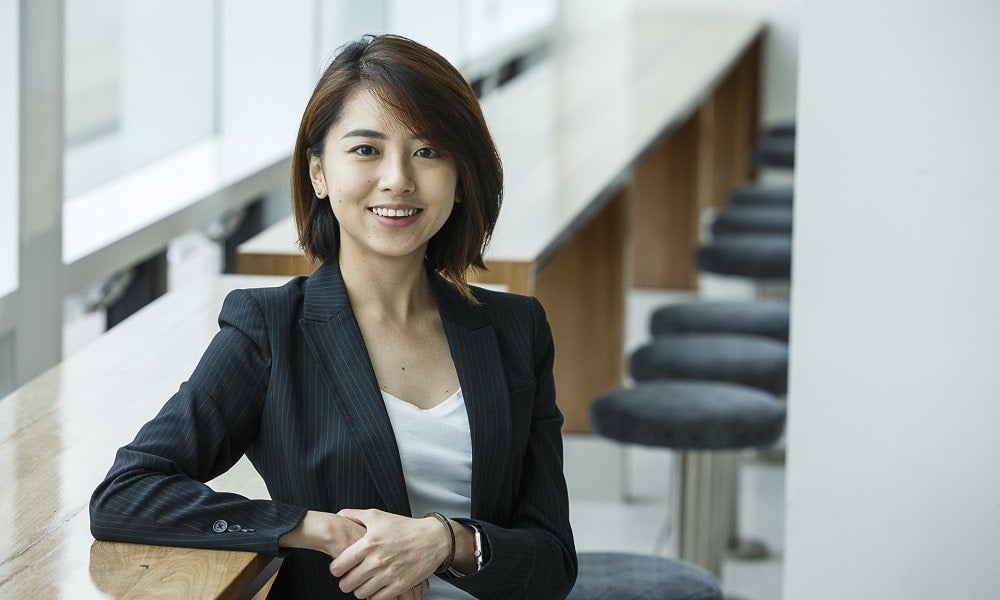 Supporting frontline healthcare workers during COVID-19
During the early days of the COVID-19 pandemic, the need for effective symptom monitoring became paramount as cases surged globally. Health professionals faced unprecedented challenges, with thousands of individuals requiring remote monitoring for potential symptoms, explains Dr Tim. She says the sheer volume of suspected cases overwhelmed healthcare systems quickly, emphasising the critical need for efficient tools and strategies to manage this new reality.
In many countries, such as Malaysia, the symptom monitoring process during COVID-19 was done manually. Each person had to record their symptoms on paper daily, and healthcare professionals would call them to discuss them using a set list of questions, explains Dr Tim. This approach was unsustainable due to the large number of individuals needing monitoring for at least 14 days.
Healthcare professionals often needed more time to contact everyone. However, the paper-based process made it difficult to track the outbreak and support those being monitored. So, Dr Tim collaborated with a multidisciplinary team of frontline clinicians, healthcare researchers, computer scientists, and an information systems design researcher to create a solution.
Read more: Microsoft's Lee Hickin on digital resilience beyond cybersecurity
During the pandemic, the team leveraged a highly collaborative design process within a high-pressure, resource-tight environment to achieve what many deem impossible: they created a telemonitoring system that empowered over 115 frontline healthcare workers to oversee the symptoms of more than 1000 COVID-19 patients at a public hospital in Malaysia.
From January to March 2020, over 5000 individuals suspected of having COVID-19 had to be remotely monitored for symptoms at the hospital. This placed a significant strain on the healthcare system. The telemonitoring system developed by the research team helped healthcare workers track the symptoms of suspected COVID-19 patients. It replaced the traditional pen-and-paper method, saving time and freeing up essential healthcare resources during a pandemic. Rather than contacting each patient daily for 14 days, health workers used this digital tool to manage numerous cases effectively.
"Using the new system, patients reported their symptoms via a chatbot. This easy-to-use questionnaire ensured more accurate data collection and sustained engagement," explains Dr Tim. Healthcare workers then reviewed this data on a web dashboard, which enabled them to intervene promptly if a patient's condition deteriorated. Drawing upon this experience, the research team conceptualised their learning. The outcome is the Agility, Designation, Alignment, Participation, and Trust (ADAPT) framework, which highlights five key enablers that best support crisis-propelled information systems design process that is urgent, resource-limited, and multi-partite.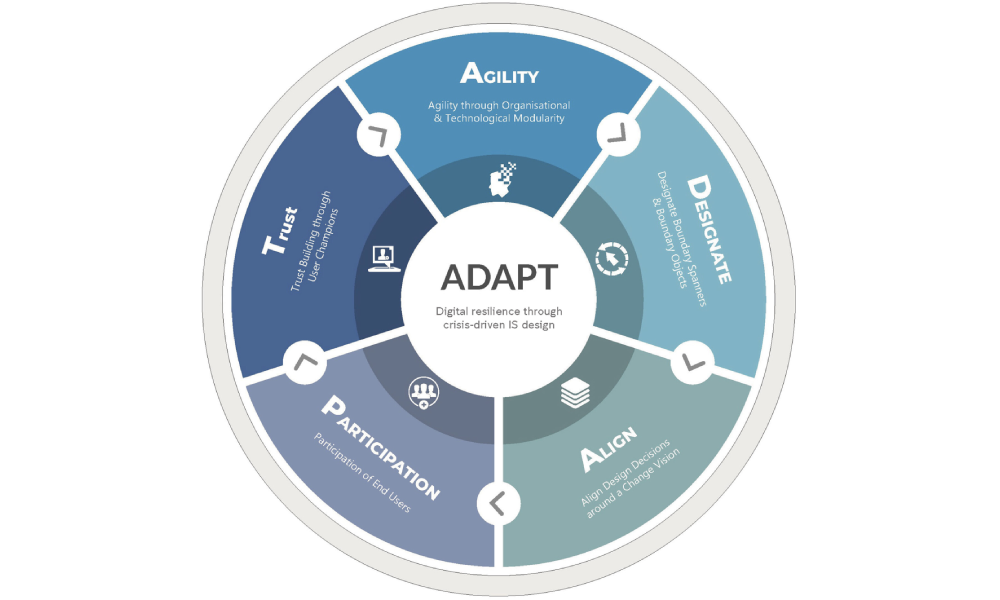 A step-by-step process for building digital resilience
According to Dr Tim, the framework developed in the study, ADAPT, offers a structure for crisis-driven design teams. It recommends interventions design teams can implement to better manage the challenging design process.
The first enabler is Agility. It emphasises the need for design teams to be flexible and ready to adjust to various conditions that may continuously emerge during a crisis. The framework provides advice on fostering such agility through organisational and technological modularity.
The second enabler is Designation. This focuses on pinpointing individuals capable of leading the team. These individuals should possess cross-boundary knowledge as well as meta-knowledge about the skills and abilities of each team member. They act as the connecting force within the team.
"Our framework also highlights the significance of recognising that the system under design can function as a 'boundary spanning' tool. Hence, ideally, design requirements should swiftly be converted into a prototype. This prototype can then facilitate communications among various stakeholders, effectively conveying the crucial needs and specific requirements in a crisis," explains Dr Tim.
The third enabler is Alignment. This involves steering design decisions during a crisis to focus on the system's primary goal. Since needs can be ambiguous during emergencies, it's essential to concentrate on delivering the critical features required in that situation.
"Alignment ensures that requests from various stakeholders are consolidated within a consistent design blueprint. It also includes strategies that enable teams working on crisis-driven designs to effectively manage changes without impeding development," explains Dr Tim.
Read more: Digital resilience: how a rural Chinese community adopted digital social innovation
Participation, especially from end users, is the fourth enabler. A digital solution for a crisis must meet its vital goals, which could relate to life-threatening situations. Dr Tim explains: "Instead of focusing on what we can do during the design process, it's crucial to concentrate on what's needed. Understanding these needs involves ongoing interactions and deep involvement with end users during design.
"Users also help evaluate the product to identify and correct unexpected results. Overall, this participation helps make informed choices about the most crucial features and how best to balance perfecting work-in-progress versus launching an immediate solution."
The final enabler is Trust. Learning about and adopting new technology during times of crisis can be challenging for users due to overwhelming circumstances. Building trust through 'user champions' can significantly assist in this process.
"These champions are individuals familiar to and trusted by the user community. They also clearly understand how things usually function within a specific context, enabling them to serve as a bridge between the design team and the end users," says Dr Tim. "User champions engage with end users, leveraging their familiarity with them and their context to alleviate any concerns. They guide users in integrating the new digital solutions into their routines and identify adjustments to streamline this process."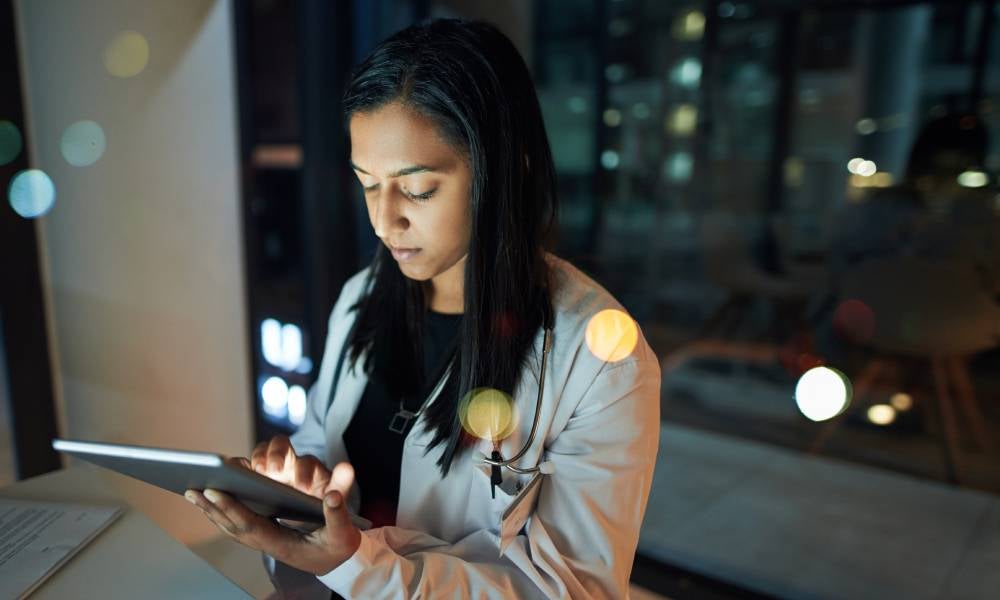 The impact of engaged research
According to Dr Tim, a key lesson from the study was that more features don't necessarily improve a digital tool. For example, the research team added a text box to its chatbot for users to add extra comments before submitting daily symptom monitoring. Despite the good intention, users could misunderstand this feature, which might provide crucial information, such as deteriorating symptoms, requiring immediate attention in the text box, she says.
"As these comments weren't automatically analysed or visualised on the dashboard, nor were they included in the questionnaire's decision tree, they could be easily missed, especially under overwhelming monitoring loads," she continues. "Consequently, healthcare workers risked overlooking key data in the text box, which could lead to serious implications. This experience taught us that an effective digital tool often relies on fewer yet essential features rather than additional 'nice-to-have' functions."
Subscribe to BusinessThink for the latest research, analysis and insights from UNSW Business School
This research aims to provide valuable strategies for design teams handling unexpected challenges during a crisis. Given the urgency, ambiguity, and limited resources, designing new digital solutions under pressure can be challenging. The researchers aimed to offer practical guidance to help navigate these difficulties.
"This experience illustrates how multidisciplinary design research can make significant real-world impacts, primarily when researchers and practitioners work together. This knowledge isn't just relevant to COVID-19; it extends to comparable crises. We hope this research will inspire more effective digital designs during major crises and foster engaged research efforts centred on resilience amidst exogenous shocks," concludes Dr Tim.